Dr. Sepideh Yeoh is a leadership consultant, author and the designer of Leadership From the Edge of the box®. Her popular workshops focus on developing the "self" by practicing vulnerability and scanning personal and professional environments to identify needs, create sustainable solutions, add joy, establish relationships grounded in trust, and ultimately maximize potential. Her personal philosophy is that everyone can be a leader and the first step in developing leadership skills is to connect with the heart. This is the step where self-awareness, regulation and management become essential components of leadership. Sepideh believes that leadership from the heart is not something one can teach or learn from a book, seminar or course, it is about the art of being, connecting with one's own heart and those around them. Leadership from the heart is about being present and practicing mindfulness.
Dr. Yeoh earned her doctorate in Organizational Leadership from University of Massachusetts Global (Formerly Brandman University). She earned her MS in Higher Education and Student Affairs Administration from Canisius College and her BA in Psychology from University at Buffalo.
Dr. Yeoh considers her most notable accomplishment to be her role as a mother to her children Neelu and Bijan.  Besides spending time with her husband, children and their dog Cher, she loves running, hiking, practicing yoga, meditation and spending time with her family.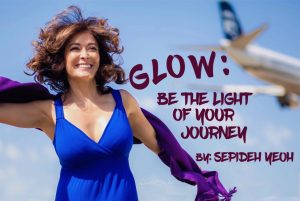 Sepideh's book – GLOW: Be The Light Of Your Journey was released on Amazon in November 2017. The book is available in paperback only.